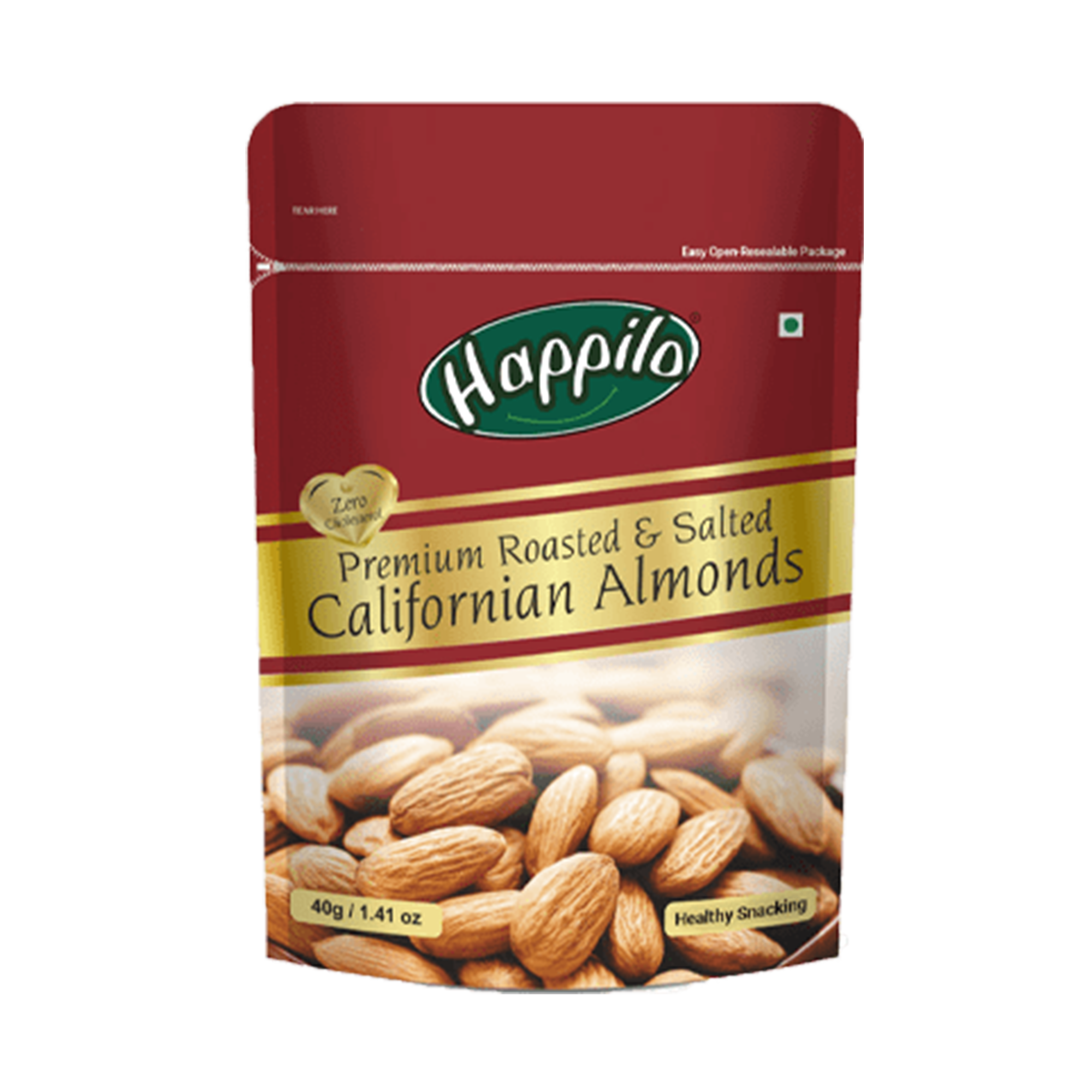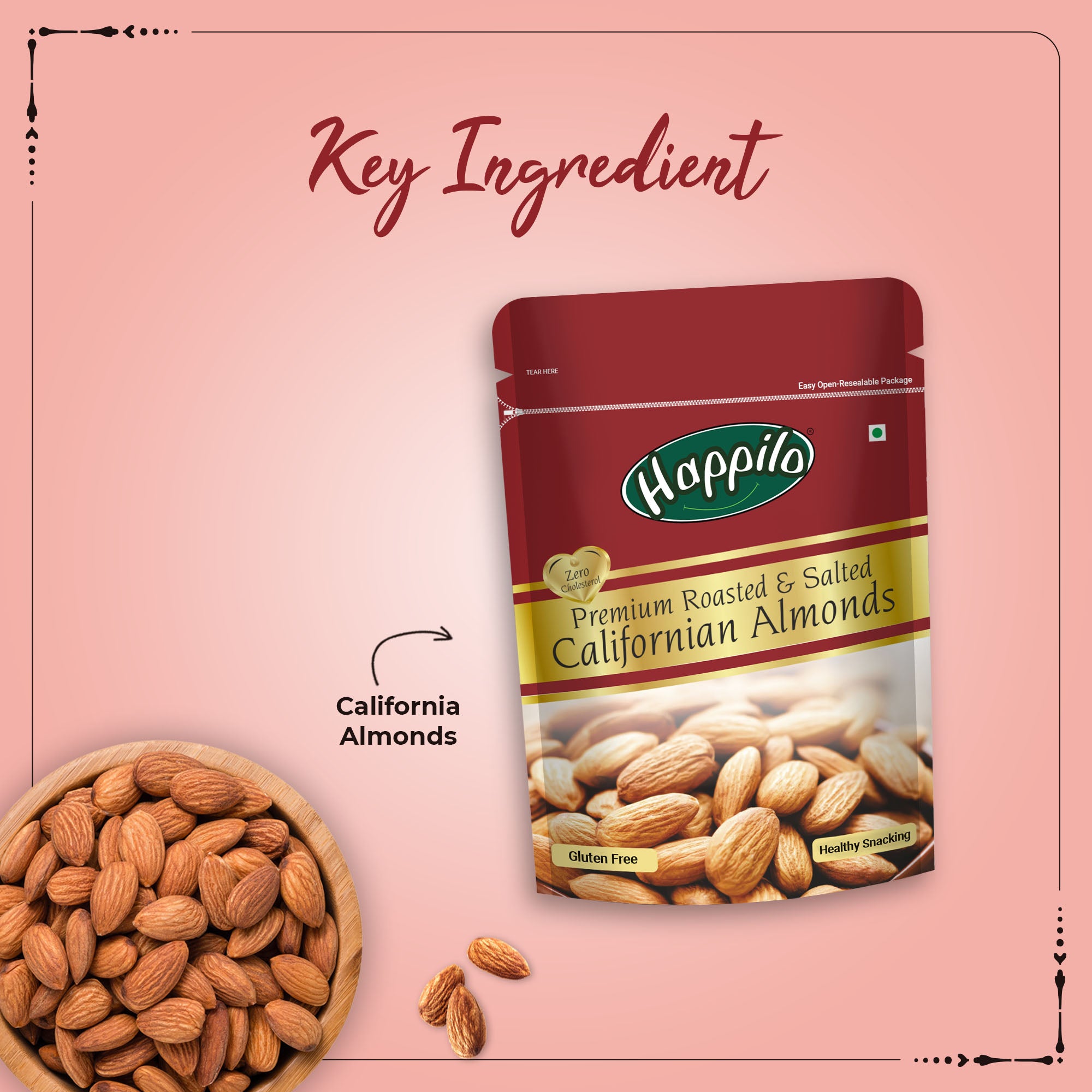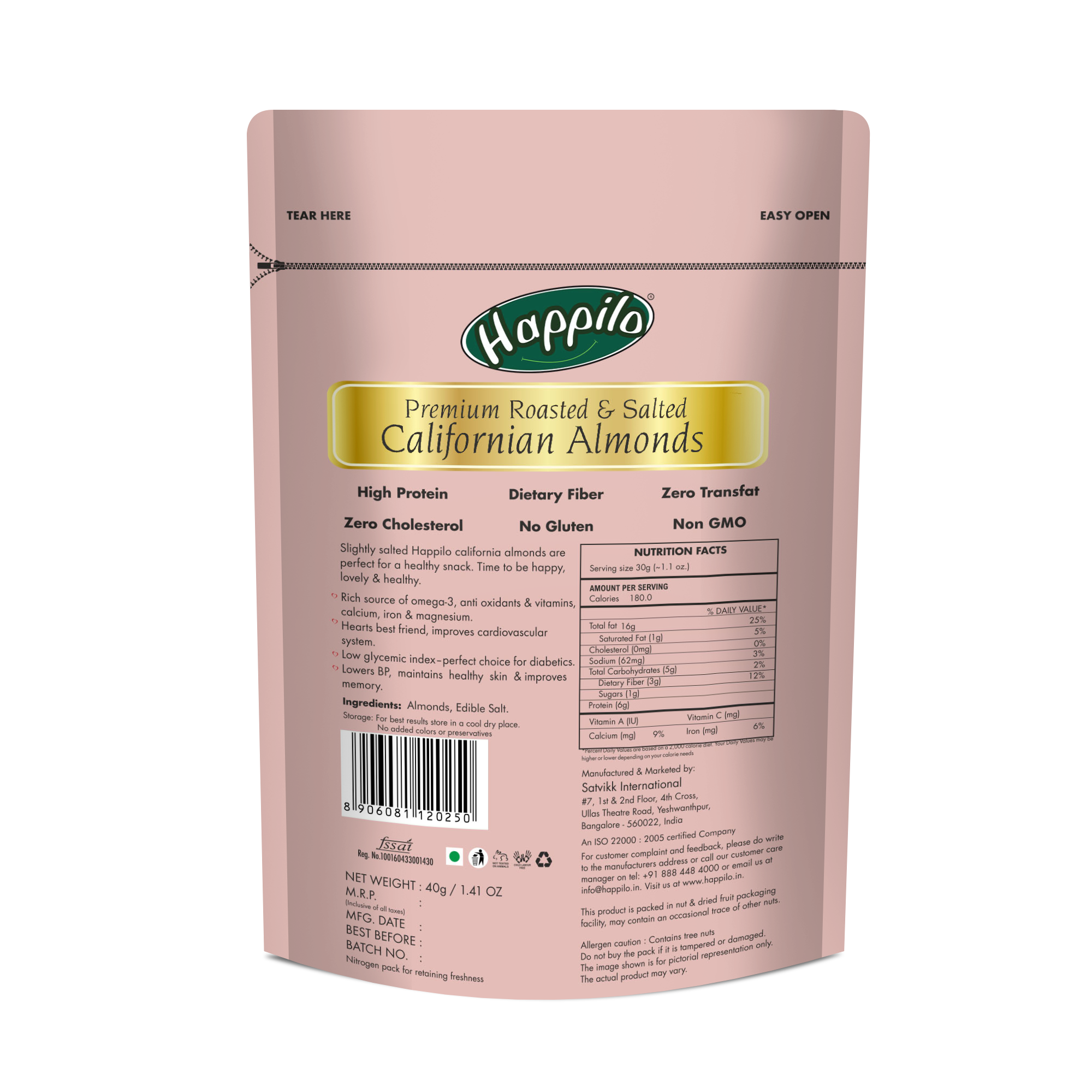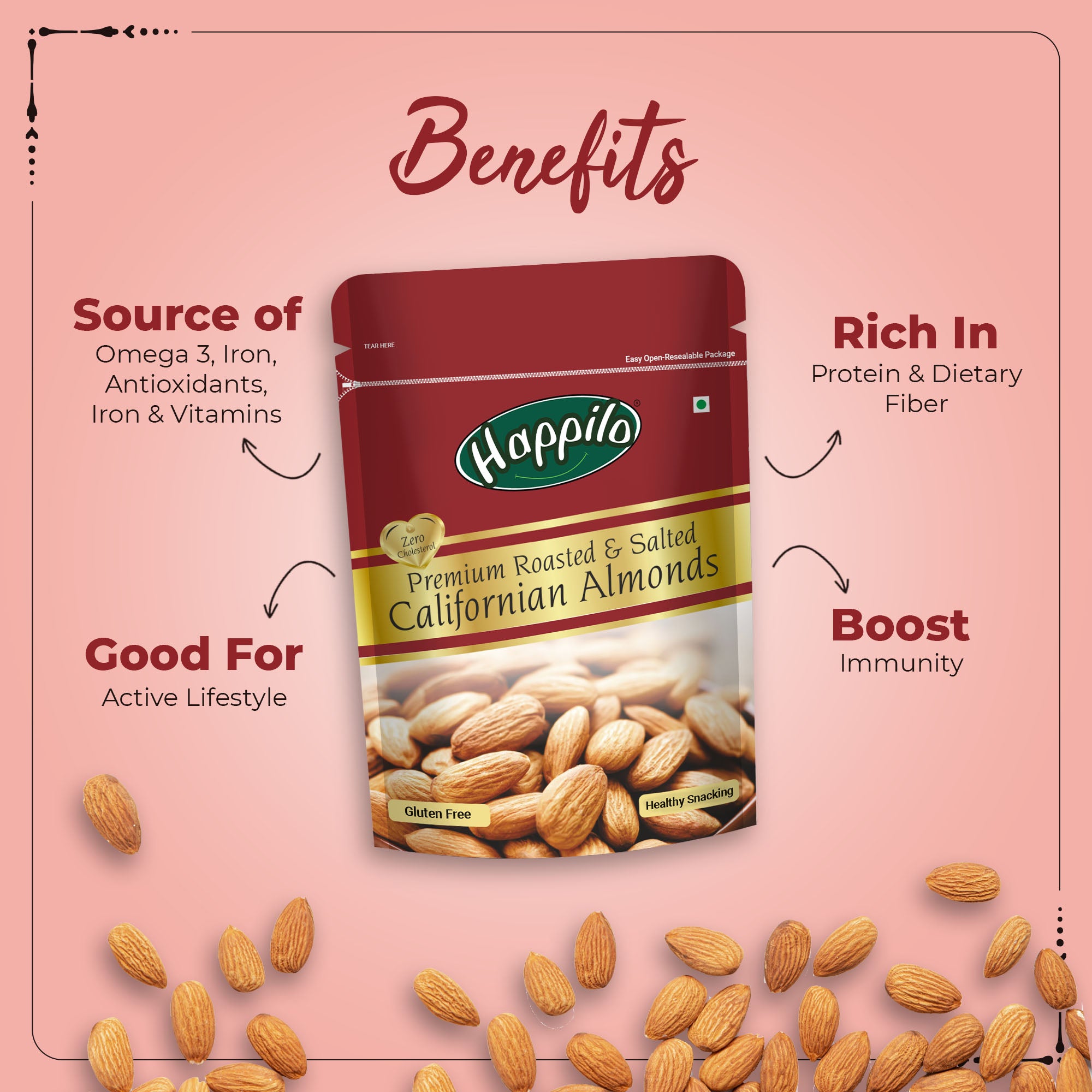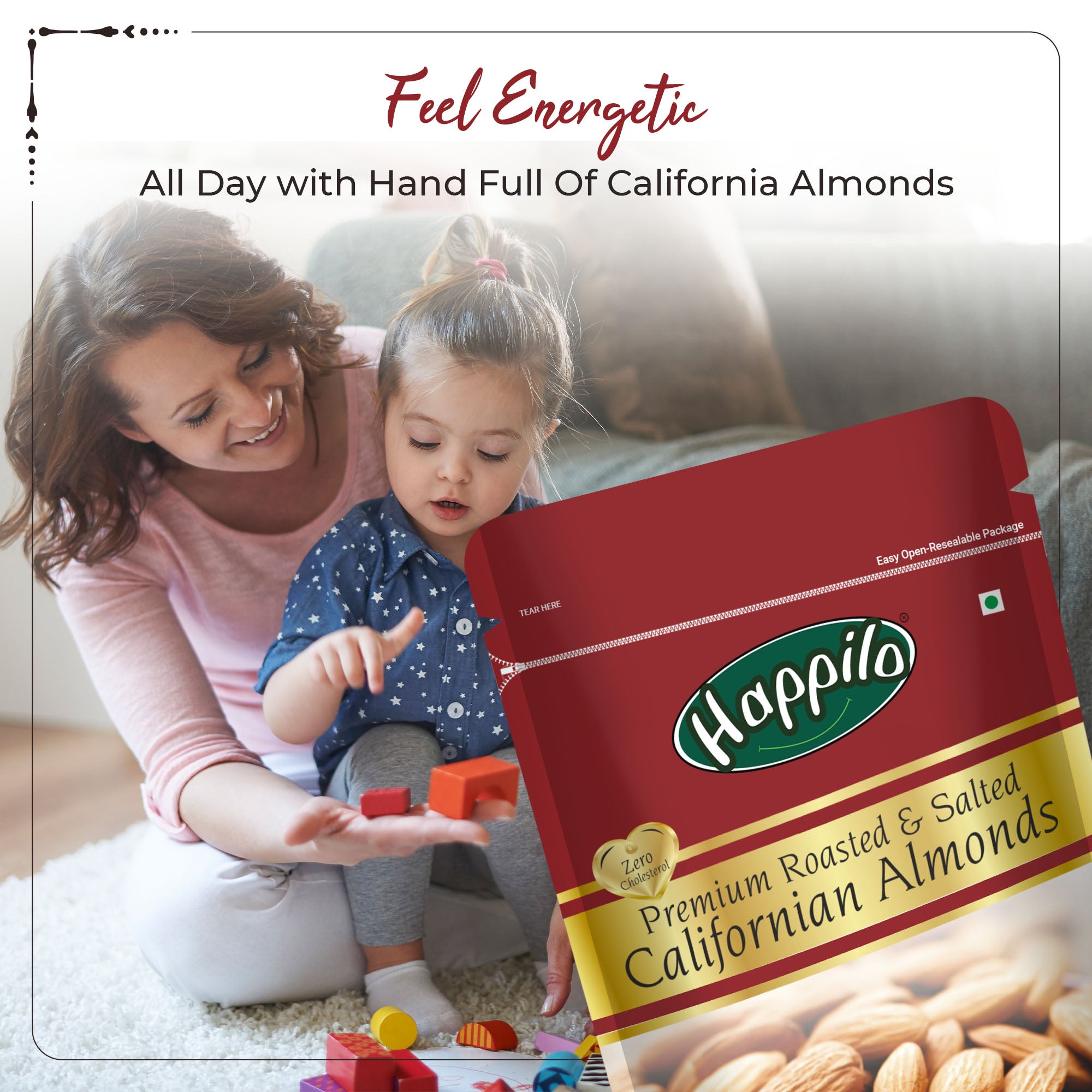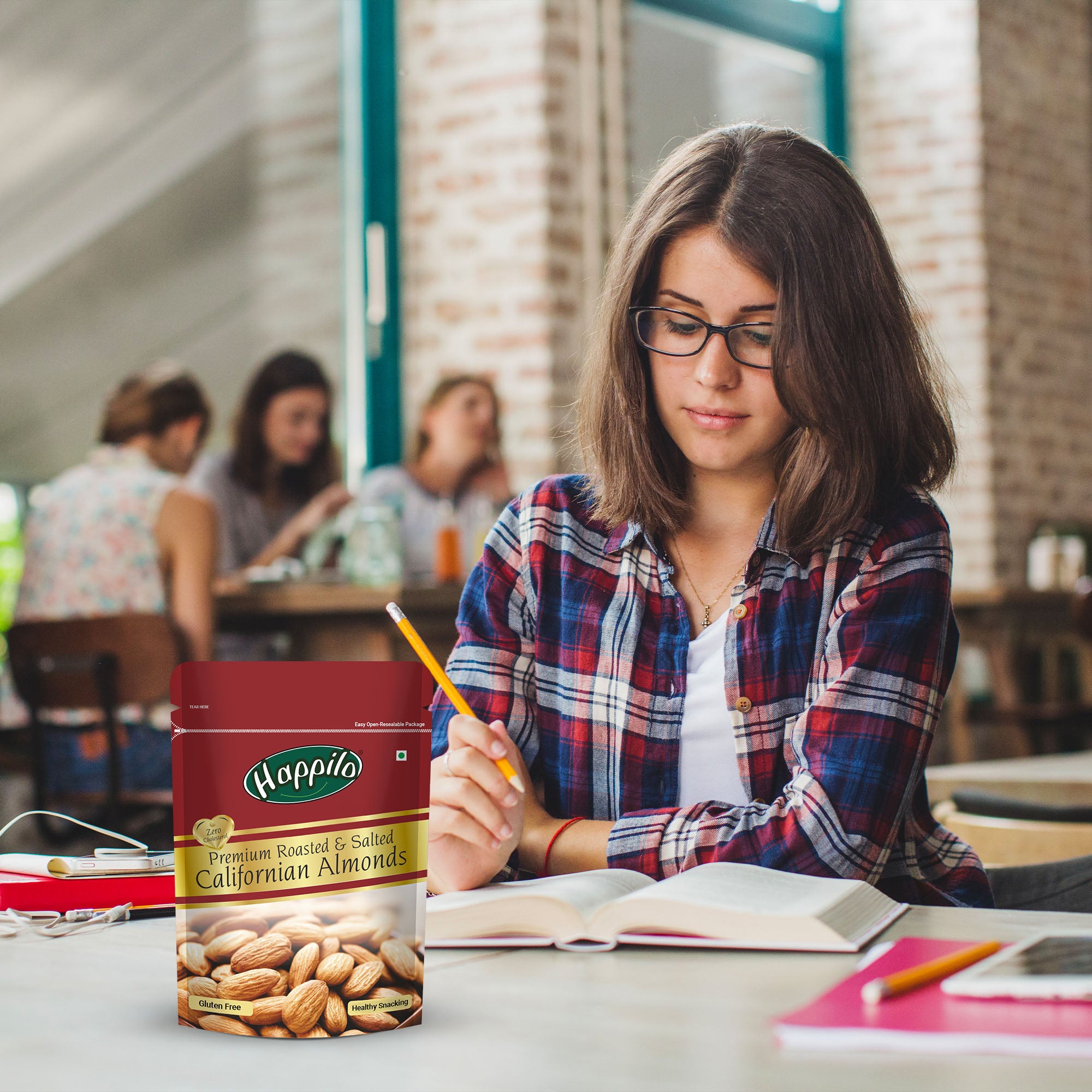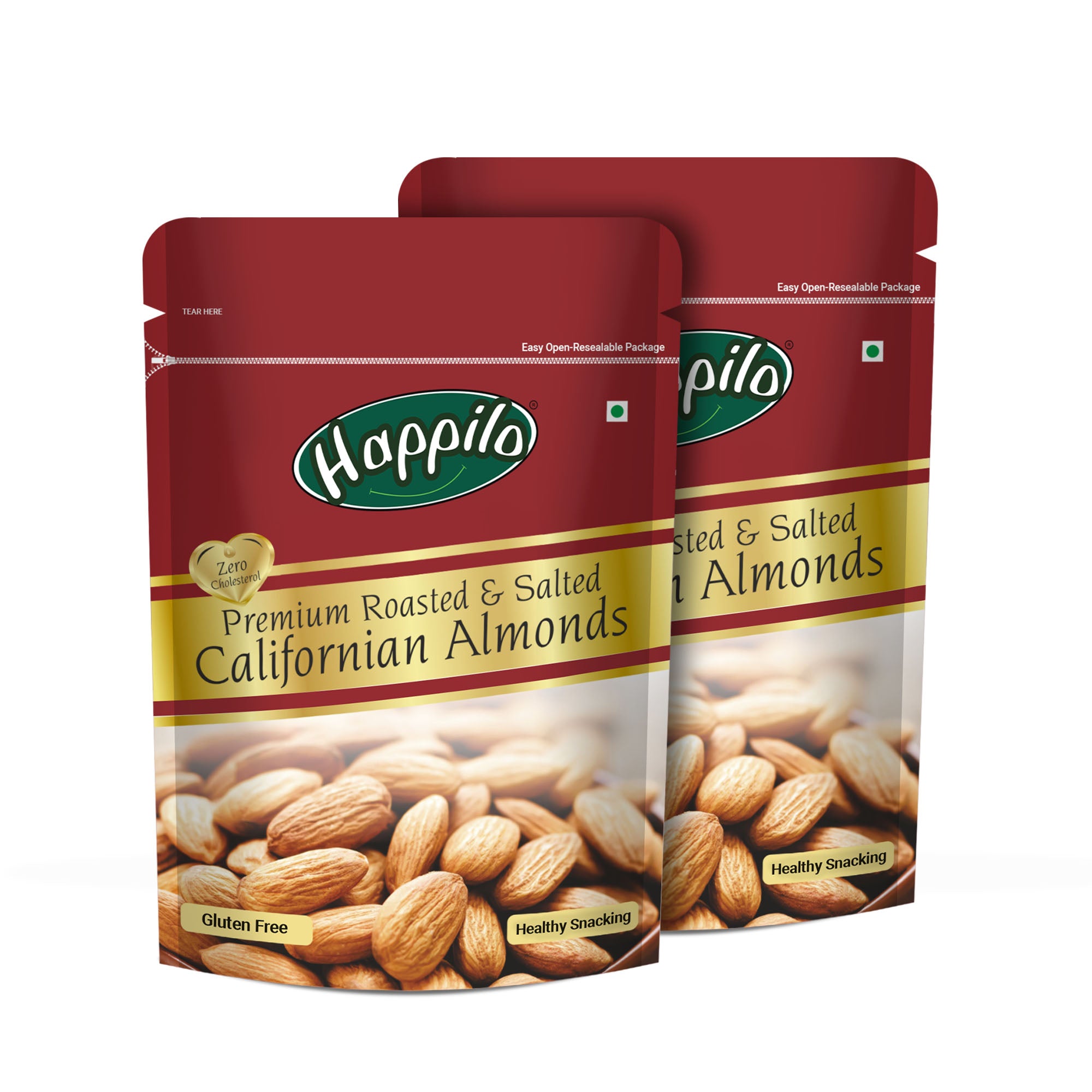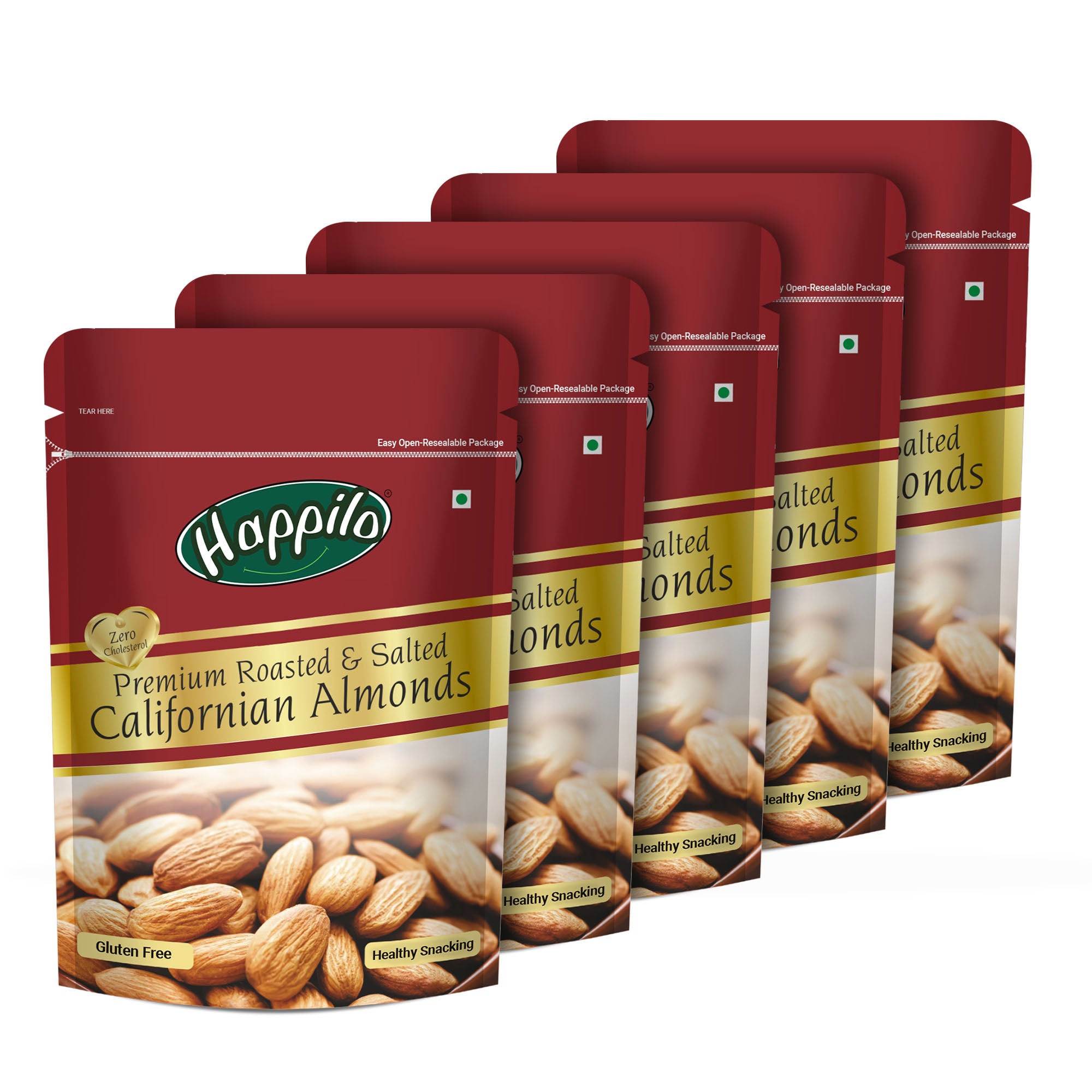 Happilo Roasted & Lightly Salted Premium Californian Almonds
Share some content to your customers about your products.
Roasted almonds are one of the tastiest snacks to munch on and it's unbelievably healthy as well. Happilo's roasted and salted almonds are the ultimate snack to stock your pantries with as they are dry roasted almonds that are lightly salted, ensuring all the essential vitamins and minerals are still inside each nut. Here are 10 reasons why you should snack on Happilo's roasted badam:
Handpicked from California: Happilo's roasted and salted almonds are handpicked from premium almond trees in California that are famous for having some of the best almonds in the world.
Dry Roasted: There is no oil used in the process of roasting Happilo's California roasted almonds. These simply dry roasted almonds are lightly salted with Himalayan pink salt before being packaged into a resealable bag to maintain freshness and crunch. 
Zero Preservatives: Happilo ensures every single packet of California roasted almonds is 100% free of all preservatives ensuring you nothing but premium quality at the best roasted badam price.
High in Minerals: Just because the nuts are roasted, doesn't mean they lose their vitamins and minerals. Happilo's roasted almonds benefits the body the same way that natural raw almonds do! They are high in magnesium, copper, manganese and iron- all essential minerals that your body needs.
High in Unsaturated Fats: Roasted almonds are naturally high in healthy fats- called unsaturated fats that your body needs to stay nourished. These healthy fats also nourish your skin and hair while keeping you full for longer. 
Healthy Weight Loss Snack: Because of their ability to keep you full for longer, one of the best roasted almonds benefits is that they are an ideal healthy snack for weight loss. 
Fiber Rich: Roasted badam is naturally high in fiber- an important nutrient that aids with digestion and overall gut health. 
Protein Rich: Like most other types of nuts, Roasted almonds are a great source of plant protein, making them ideal for vegetarians. Most people are not able to eat the daily recommended amount of protein from their everyday meals. Adding a handful of almonds to your daily diet can improve your protein intake and boost your muscles' ability to repair themselves.
Premium Quality: With Happilo, you can always be guaranteed that you are buying a premium quality product at an affordable roasted badam price. Happilo guarantees that every single item that they package is Non-GMO (genetically modified organism) Verified, Gluten-free and fat-free with no added preservatives -being nothing but a healthy treat for the entire family!
Best Roasted Almonds Price: Happilo provides you with roasted almonds online at an affordable price without compromising on quality, packaging and service. Every product is value for money and we provide options of payment so your purchase doesn't affect your budget- Eg. You can opt to pay for the roasted almonds 1kg price on EMI.

Almonds, Edible Salt 
Specialty
High in Protein, Gluten Free
Weight
200 Grams
Ingredient Type
Vegetarian
Storage Instructions
Store in a cool and dry place in a air tight container.
Item Package Quantity
24
Allergen Information
Tree Nuts
Net Quantity
200.0 gram
Product Dimensions

15 x 4 x 23 cm; 200 Grams
Date First Available
1 January 2017
Manufacturer
Happilo International Pvt Ltd
Packer
17/A1, Maruti Arcade, behind Reliance Petrol bunk, Industrial Suburb 2nd Stage, Yeswanthpur, Bengaluru, Karnataka 560022
Item Weight
200 g
Item Dimensions LxWxH

15 x 4 x 23 cm
Share some content to your customers about your products.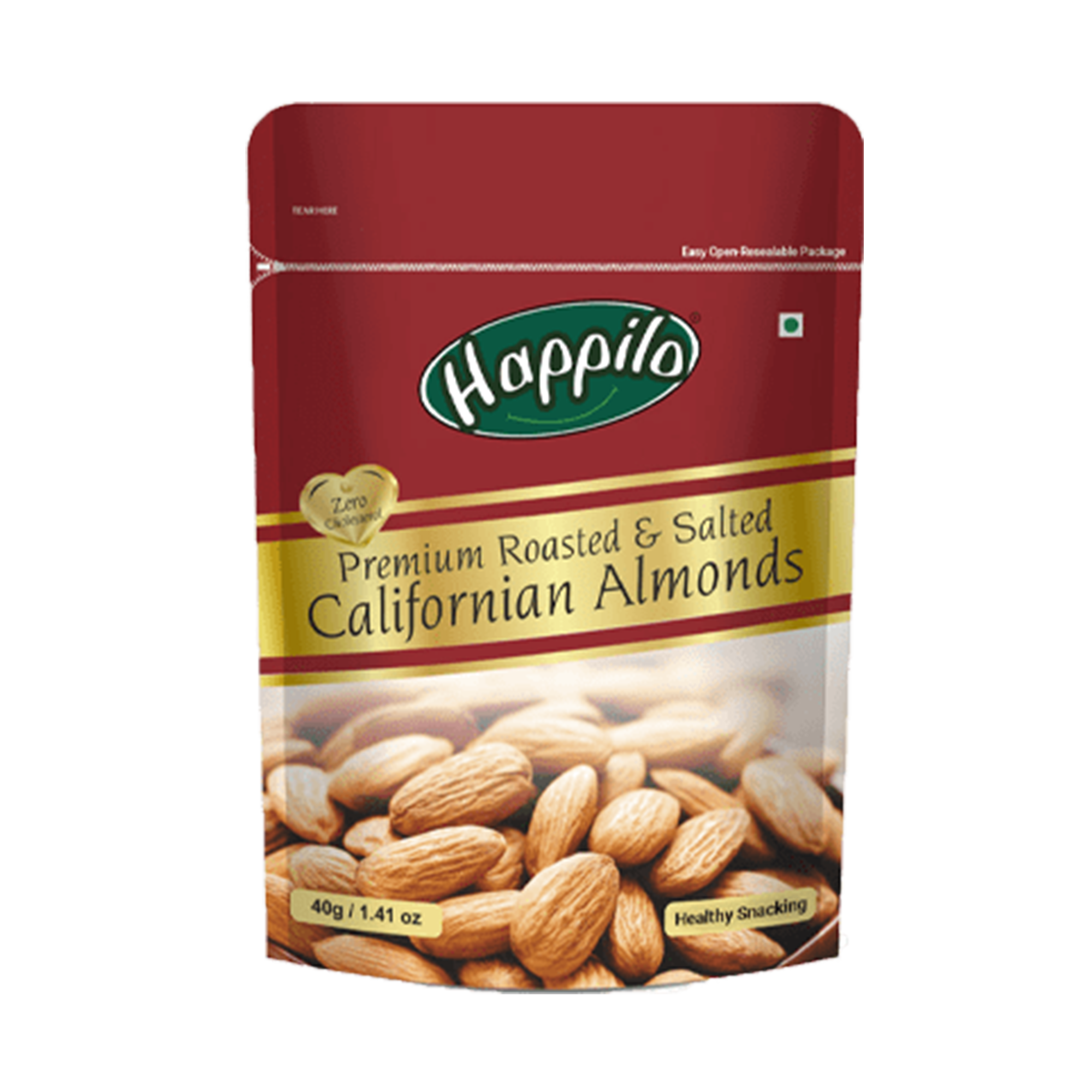 Explore Our Other Products
Yes, we ship all over the world. Shipping costs will apply, and will be added at checkout. We run discounts and promotions all year, so stay tuned for exclusive deals.
How long will it take to get my orders?
It depends on where you are. Orders processed here will take 5-7 business days to arrive. Overseas deliveries can take anywhere from 7-16 days. Delivery details will be provided in your confirmation email.
You can contact us through our contact page! We will be happy to assist you.